In my continual quest to find great locales and settings for some western-themed stories, I am realizing I don't have to go too far from home. It's grand living in one of the states where a lot of western books are set. It's also great being in the state so many considered a destination state when they were heading west.
Colorado boasts a lot of natural attractions and beauty. Some are known world-wide like Pike's Peak, Rocky Mountain National Park, the Cliff Dwellings in Mesa Verde, and of course Four Corners.
But one area that sort of stays hidden until you get into the state (unless of course you're coming here specifically for it) is the Great Sand Dunes. They are the tallest dunes in North America. Nestled between the Sangre de Cristo (Blood of Christ) and San Juan ranges of the Rocky Mountains, and hidden in the middle of a national park in the San Luis Valley, you almost miss them without specific directions.
The story of how they were formed is continually evolving, but basically, during the shifting of the earth plates and the formation of the two ranges, sediments collected and gathered in the natural bowl formed by the mountains. An ancient lake that once covered most of the valley receded. Several smaller lakes formed, but also receded. The sediments from those lakes, with the help of the prevailing southwest winds, collected and gathered in the valley to form the dunes.
Water is the lifeblood of the Great Sand Dunes system. Streams begin as tundra snowfields, melting then flowing through alpine lakes, forests, dunes, grasslands, and lush wetlands. And each spring, when the tundra snowfields melt, the water flows into the valley at the base of the dunes, forming a wide creek. Combine the water with the sand dunes and the desert climate, and you've got a natural beach-like atmosphere that draws families from miles around.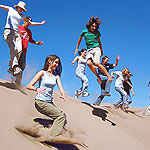 See, when you live in a land-locked state, the chance of going somewhere that has a combination of sand and water is a big deal. I grew up on the East Coast, so oceans and beaches were in great abundance with a very short drive. But now, living in Colorado, I have begun to understand why visiting a place like the Sand Dunes is such an event. Families come with their bathing suits and sand toys to build sand castles and bury each other in the sand. And with the creek almost as wide as a river in this area, you can balance the time on the hot sand with a dip in the cold water.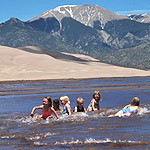 One other unique facet is the dunes system is currently fairly stable. When comparing an 1874 photo of the main dune-field with one taken at the same location in 1999, there is very little change in the location or size of the largest dunes. The opposing wind directions balance each other out over time. Also, the main dune-field is moist beneath the thin layer of dry surface sand. In windstorms, the top few inches of sand blows around, and the moist sand remains largely in place.
So, people who came to visit the Dunes in the late 1800's saw the same view you would see today. Amazing to think if you visit, you will be viewing the dunes as if looking through the eyes of someone who walked across that very same sand over 100 years ago. Talk about stepping back in time and experiencing history first-hand!
I've only lived here in Colorado for 3 years, and in June, my husband, daughter and I are driving the 2-1/2 hours south to visit the Dunes. I can hardly wait!
Other than that, I've had a new book release. It's a collection of my first 3 books, and while it isn't a western setting, one of these days I'll sell a western-themed novel. Things are looking promising, so stay tuned and I might have some good news before long.
The new release is
Liberty's Promise
, and you can find it at Wal-Mart, Sam's Club, Costco, and just about any book store. If they don't carry it on their shelves, they can order it for you. Or, you can
go to my web site
and find the buying links there.
If you've read it, I'd love to hear from you. And of course, if you'd like to write a review on any of the online bookstore sites, I'll be in your debt. :) Just drop me a line to share your review. I'd love to read it too.
Sand Dunes pictures taken from http://www.nps.gov/grsa.
---
Tiffany Amber Stockton has been crafting and embellishing stories since childhood. Today, she is an author, online marketing specialist and freelance web site designer who lives with her husband and fellow author in Colorado. They have 1 daughter and a border collie. She has sold eight books so far to Barbour Publishing, is a columnist for the ACFW e-zine and writes other articles as well. Read more about her at her web site:
http://www.amberstockton.com/
.