Bonnie Calhoun, Publisher of Christian Fiction Online Magazine, did a terrific interview of Janet Bly in her latest issue talking about the process of finishing her husband Steven's last book. I wanted to share that here and got permission to do so. The magazine can be found at http://www.christianfictiononlinemagazine.com.
Finishing Dad's Novel: A Family Affair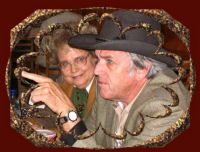 My husband, Stephen Bly, hated half-done jobs. He couldn't stand to let a to-do list lie around more than a day or two.
In early January 2011, he determined to tackle three big undertakings and finish them by summer: 1) get our pine trees pruned; 2) reroof the house; and 3) complete his contracted 106th novel,
Stuart Brannon: The Final Shot.
A few weeks later he played eighteen holes of golf. The next day, he could hardly stand without breathing hard. His almost five-year battle with prostate cancer began to take its final toll. The next four months he spent more days in the hospital than out. He passed away on June 9, 2011, five days before our forty-eighth anniversary.
Determined to finish the projects for him, I hired a tree trimmer. I found a roofer. Meanwhile, my sons said to me, "Let's get that book done."
As the idea grew of their involvement, I assessed that they had their dad's creativity and wit. Together they'd impart their father's personality. I also discovered the value of their feedback and encouragement. I couldn't do it without them.
I e-mailed the editor and asked for permission for us to finish writing the novel and for a deadline extension. She gave us four months. We had until November 1. The third project on the list became a family affair.
Can a committee write a novel? We didn't know. But we had the passion to find out. Steve left us 7,000 words, a one-page synopsis, some penciled general notes, and a list of character names. We began July 1, 2011.
Step One
We read over the chapters Steve had completed, some of which he had dictated to me in a quarantined hospital room, my acrylic-gloved fingers attacking the keyboard.
"It reads more like a mystery than a Western," we four surmised.
This book must resonate like a Stephen Bly novel and resemble the early Stuart Brannon series, yet, this story started out differently. Former lawman Stuart Brannon is a much older man in 1905. He struggles to fit into the twentieth century. He's a cowboy off of his Arizona ranch, who travels to the Oregon coast to find his missing U.S. Marshal friend. He also grapples to learn the game of golf on behalf of a celebrity charity tournament.
Step Two
We reacquainted ourselves with Stuart Brannon. We listened to the six audiobooks of the original series so that we'd intimately understand this character, to know what he would do or say in any situation. We scanned other Stephen Bly novels in which Brannon was mentioned or had a cameo appearance.
We considered whether the longtime widower would have another romantic interest. If not, who would be part of a romance? We also were guided by and limited to the obituary printed at the end of
Son of an Arizona Legend.
Step Three
I scanned Steve's Western resources to immerse myself in the Western world he knew so well. I scoured our fiction writing books for refresher tips and printed out excerpts for the sons. One that really helped me was
How to Write Fast While Writing Wel
l by David Fryxell, which emphasized the importance of organization and discipline.
A friend suggested I attend the American Christian Fiction Writers conference at St. Louis, where I took a class based on the book
The Moral Premise
by Stanley Williams. This helped us focus our main theme: pursuing justice, truth, and mercy brings success; injustice, deceit, and lack of mercy produce failure.
Step Four
We met each Sunday afternoon to brainstorm and critique. We started with a cluster diagram of all the characters and information we'd garnered. We learned one another's best communication style. E-mails, texts, and phone calls shot back and forth. Spirited discussions stirred debate as well as consensus.
Step Five
We assigned one another research topics for the people, places, and products of 1905 we needed to investigate. For instance, Russell studied Panama and the canal project, which plays a key role in the plot. We also prepared character sketches then made composites. We found pictures on the internet that we thought they resembled.
Step Six
We began by developing random scenes. Mike suggested a thorough outline. Later, Aaron prepared plot points. That gave me direction for which scenes to draft next.
We wrestled with key questions: What happened to Brannon's missing friend? Who are the good guys? The bad guys? What other Stephen Bly novel characters would be featured?
Step Seven
We tried to include as much of Steve's writings as we could. Two Indian characters we added came from his short story "Catcher-of-the-Sun Runs High." We inserted portions of his poetry.
A "Stuart Brannon Writes Again" article started out as our prologue. Later we concluded it didn't fit. We interspersed some of the material in the text and debated whether or not to have a prologue. We considered one of the background stories we'd prepared on two of the orphans for the prologue.
The last scene Steve dictated to me didn't quite flow with the rest of the story. We converted this one and others as dream sequences for Brannon. The young Indian, Keaton Tanglewood, comments, "The old chiefs dream many dreams." Brannon ponders,
Am I like an old chief? Are we getting so close to the next world that this one and the other start to blur together?
We felt that tied it together.
To keep the constant additions and corrections separated, I used a different color type each week that turned into a helpful, rainbow manuscript.
Step Eight
The chronology of the story's timeline got tangled, but we finally figured it out.
It dawned on me the necessity to go on location, to retrace Steve's research trips, to discover and experience what he knew. I reserved a motel in Gearhart, Oregon, two weeks before deadline.
Step Nine
The pressure was on to write fast and prolific. As the weeks marched on and the word count edged higher, we aimed to reach Steve's goal of 75,000 words; however, Steve could easily pound out a minimum of 5,000 words daily. I struggled to eek out 2,000 words per day. When Aaron devised an adventure scene and Mike produced the golf tourney and poker game settings, we reached 67,000 words. By October 1, I knew we'd hit the target count.
I headed to the Oregon coast. This on-site research added much needed color and revealed mistakes. For instance, we had centered a main event on a deserted island. The Oregon coast has no deserted islands, only rock outcroppings. We changed the action to Tillamook Head.
Step Ten
After we exceeded our word goal, we began to delete scenes and even characters that didn't move the plot.
So many tweaks, so little time.
The last days and hours were frantic with attempts to concentrate, to view the pages with clarity past the blur of chapters we'd read so many times that they all ran together.
At 10:36 a.m. on November 1, 2011, Mike e-mailed me, "Well? Ready to push SEND?"
At 11:46 a.m. I did, confident we'd done all we could.
This project had been an incredible challenge, but also a great privilege, and it provided an avenue for healing. I asked Jesus to let Steve know that we'd finished his last undone earthly task.
The estory, "Catcher Of The Sun Runs High" is backstory for the two Indian characters in Stuart Brannon's Final Shot, and will be available through Smashwords, Sony, Nook, Kobo, Kindle, Apple & Diesel in the next few weeks. So look for it!
---

---
Janet Chester Bly has authored thirty nonfiction and fiction books, eighteen she coauthored with Christy Award−winning author Stephen Bly. Titles include
The Hidden West Series, The Carson City Chronicles, Hope Lives Here,
and
The Heart of a Runaway
. Her three married sons, Russell, Michael, and Aaron, live down the mountain with their families at the confluence of the Snake and Clearwater rivers in Lewiston, Idaho. Visit their website at
http://www.blybooks.com/